I don't know about where you live, but it's starting to feel a little like Fall here in Colorado and I'm getting excited! I love every season here, but I'm just ready for the colors, crisp air, and extra layers. Yay Fall!
Now you're not here to read about the weather, so it's time to find out what crazy foods I'm eating as part of my competition diet right? There were no changes to the program this week, so let's get right to What I Ate Yesterday…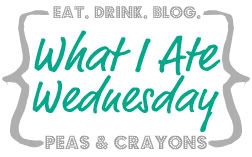 Meal 1: My first meal is the most boring to look at, but I am addicted! It's easy to prepare when I'm barely awake and isn't overly filling before hitting the gym for 2 hours. I'm sticking with my Pumpkin TVP, which is a simple mix of rehydrated TVP & canned pumpkin. Today I spiced mine with coconut extract, maple extract, vanilla stevia, and cinnamon. As I eat, I also down my morning supplements,  with Fitmixer & 20 ounces of water.
Post-Workout: When I got back from the gym & run, I whipped up a quick shake (spinach, pumpkin, chocolate Vega protein, oats, fig, and almond milk). I also kept out some of my starch, fat, and fruit for some PB&J toast. Crazy, I know.
Meal 3: This is the meal I think of as lunch, although I usually eat it around 11AM. Today was a mix of sautéed veggies, tofu, and forbidden ride. Kirk made this meal during our weekend batch cooking and the seasoning is delicious!
Meal 4: Next up I decided to try my hand at a version of deviled eggs, but with some extra spice and no mayo. I've enjoyed this the last two days and I've been impressed with how fresh this still tasted several days after making it on Sunday – success!! Keep reading to the end for the recipe.
You probably noticed the Happy Eggs in the background of this photo. If you've been reading for a while, you know that I didn't eat eggs for almost 2 years. I debated for months before I decided to buy my first carton, but found that humane eggs are easier to find than they used to be.
Talking to a local famer is my preference, but you can also find eggs in many stores with a Certified Humane seal on the carton. You'll notice that they have a much higher price tag than those around it, but it costs more to give chickens the space and care they deserve.
For me, it's important to make the choice to pay that price and support humane farming practices. You can find certified humane seal on both eggs and egg whites now (ask your store if you don't see any), so please look for that seal the next time you're at the store! :)
Okay…now back to the food!
Meal 5: This delicious snack is another one I'm really excited about (with the recipe coming later this week) – Pumpkin Protein Muffins with Spiced Protein Icing. It's moist and PACKED with veggies that you won't notice at all. I look forward to this dessert-like snack every day. :)
Meal 6: My last meal of the day is another one prepared by Kirk! I come home on Tuesday nights just in time to eat dinner (around 9PM) after bible study and my awesome hubby has dinner waiting for me. Seriously, I am so blessed! Last night was seared salmon with shallots and tarragon, over a bed of asparagus, and drizzled with his homemade béarnaise sauce.
*****************
Are you ready for the recipe?
I made a big batch on Sunday (enough for 5 servings) and knew immediately that this was a recipe I had to share with you. It's easy (except pealing all those eggs) and each serving (4 eggs) contains 4 ounces of veggies! Not your typical deviled eggs loaded with mayo, right?!
Spicy Devil Eggs
Keywords: appetizer side snack vegetarian sugar-free soy-free egg
Ingredients (serves 5)
16 hard boiled eggs peeled
6 tsp Dijon mustard
1/3 cup heirloom tomato finely diced
1 tablespoon onion finely diced
1/2-1 jalapeno finely diced
1-2 chipotle pepper finely diced
2 teaspoon relish
Instructions
Cut peeled eggs in half and scoop out the yolk, placing yolks in a medium bowl and whites on a plate. Smash yolks with a fork.
Add remaining ingredients to the medium bowl (with the yolks) and combine, smashing with a fork as you combine to achieve your desired texture. I like mine creamy, so I smashed and stirred for several minutes.
Using a teaspoon, scoop the yolk mixture and place back into the "holes" left by the yolks in the egg whites. Store in a sealed Tupperware container until ready to serve.
If you try these please let me know what you think! You can always tag me if you share them on twitter or instagram, I love when you guys make my recipes. :)
Don't forget to head over to the big party at Jenn's place and check out some of the other WIAW participants this week – meet a new friend and get inspired!
********************
Questions for you:
What's one meal you eat over & over again?
Are you ready for Fall?