While I was eating breakfast yesterday morning, I had a slightly different idea for today's WIAW post. You've seen a lot of my meals while training for my first bikini competition, but what about if I shared a bit more about the context? With all this food, I've become even more of a multi-tasker than normal. While I know there's a lot of discussion about focusing on what you're eating, I just don't have time to do that in a typical work day. So take a peek into my day today – and get a very simple breakfast recipe for your trouble! :)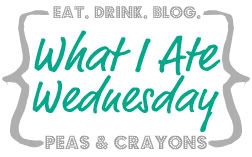 Since we're joining the WIAW party today, make sure you head over to Jenn's place & see what other inspiring foods are shared today!
Meal 1: Morning Supplements and PB&J TVP Oatmeal
My day starts early, so I have time for my morning workout before work. I take my morning supplements chased by Aminos. I'm trying a new brand, since Laura had such a bad experience with customer service at fitmixer (I hope companies realize how big an impact customer service has on people!) and this one is decent. The flavor is like a melted blue icee (YUM!), but it doesn't dissolve as well and there's a bit of texture in the drink.
Today I had a new breakfast concoction that was delicious (recipe below) and easy to prep in just a few minutes. Although I am not awake enough this early to take my typical food photos, I decided to share the recipe today anyway. I eat breakfast while spending time with God in my morning quiet time – great timing since the rest of the house (Kirk & dogs) are still asleep. Recently I've been reading a chapter from the bible & a chapter from one of the books I'm reading. It's a great way to get the morning started!
Post-Workout: Green Smoothie
Returning from the gym, I immediately mix up my green smoothie. A very basic one yesterday with Vanilla Vega Protein, Spinach, Almond Milk, Water, and Maple Extract. While drinking this, I prepped my mid-morning snack to pack for work. I didn't want to prepare it too early, so the bread wouldn't get soggy.
Throughout the Day: LOTS of Water!
When I get to work, I fill up a big jug of water that I use to refill my water bottle throughout the day. I know I could get a few extra steps by filling up the water bottle, but I've found I just don't do it and I need to drink 1.25 gallons of water each day. This little trick makes hitting my water goal much easier!
Meal 2: Sourdough Bread & Lox
I am a big fan of a bagel with lox, but it's not something I've had in ages. Instead of the bagel, I weighed out a slice of sourdough bread to hit my starch target for this meal, spread a little silken tofu on top (instead of cream cheese), then topped with sliced red onion, a few capers, and LOT of smoked salmon. Not unique, but oh-so-good! Eaten at my desk while working through emails with surprisingly few spills.
Meal 3: Fall Butternut Salad
After not eating salads most of the summer, I have been craving salads at lunch recently! This salad was based on this Butternut Bliss Fall Salad and has so much delicious flavor. I added toasted pumpkin seeds at the last minute and the crunch contrasting with the tofu was just what I like. This salad hit the spot after my lunchtime interval run, while catching up on emails that have piled up.
Meal 4: Chocolately Sweet Eggs
Egg whites are an easy afternoon snack, but I wanted something a little different this week. I made these a little sweeter than normal and added almond extract & cocoa. I know it's just egg whites, but these were so light & fluffy today! I've been enjoying these sweeter afternoon snacks between meetings recently.
Meal 5: Chocolate Almond Protein Pudding
The last snack of the day was protein pudding. Basically the same ingredients as the snack above, but with Chocolate Vega Protein instead of the egg whites. It's funny how changing one ingredient makes for a completely different meal.
Meal 6: Garlic-Ginger Tuna Steak & Greens
After bible study, I came home to another delicious meal made by Kirk! This was a pre-marinated tuna steak from Whole Foods, sautéed and served over greens. I seem to be enjoying the dark fish more the white fish at this moment and I enjoyed every bite.
I enjoyed tonight's dinner with a "fancy glass" of Kambocha, while working on this post and watching Bones. Any other Bones fans out there?
*****************
And now it's time for that simple breakfast recipe! I hope you'll excuse the lack of yummy picture this once and give this a try.
PB&J TVP Oatmeal
Keywords: microwave breakfast snack vegan vegetarian
Ingredients (1 serving)
1/4 cup almond milk
3 tablespoons TVP
3 tablespoons Rolled Oats
2 heaping tablespoons Protein Plus Peanut Flour
1/4 cup Blackberries
4 drops Stevia (optional)
Instructions
The night before, mix together almond milk, TVP, and oats. (Note: I usually make a larger batch of this, so I can use it for several days).
In the morning, mash up blackberries with a fork. Stir in peanut flour until it dissolves in the blackberry juice (Add a little water, depending on the juiciness of your berries). Microwave TVP/oat mixture for 1-2 minutes and stir in blackberry mix. Add a few drops of stevia, if you prefer a sweeter breakfast taste. Enjoy!
******************
Questions for you:
What did you eat for breakfast today?
What's your favorite drink to sip from a "fancy glass" that's not wine?