A few weeks ago, I kicked off a new series at about balancing fitness & life! I think this is something many of us are working on, so I want to get different perspectives on how others approach it. My hope is that if we discuss our experiences with this balancing act here, we can learn from each other! You can read all the posts in this series here. Enjoy!
********************
Hi, guys! My name is Janetha and I blog over at meals & moves. I am happy to be Heather's guest blogger today!
As you know, Heather has been featuring posts on how we balance LIFE and FITNESS. Let me tell you a little bit about my background. I didn't get into fitness and living a healthy lifestyle until 2008. Before that, my life was full of beer and fast food. A gym membership was out of the question! My only form of exercise was snowboarding and bar hopping. After a snowboarding injury, I gained a substantial amount of weight and wanted to do something about it, so I started a 12-week diet & exercise program. The fire was lit and my passion for health and fitness has burned ever since!
Over the years, I have gradually become more and more busy. Gone are the days where I didn't have many responsibilities (or bills!) and I could do whatever I wanted, whenever I wanted. Going to the gym for over an hour a day was no big deal, I could do that and still come home in the evening with a few more hours to kill. But, like I said, I got busier and busier as life went on. I got married, I bought a house, and I am now holding down a full time job and two part time jobs. Squeezing in fitness has become more of a chore than a luxury.. unfortunately! And, because I am now working on that whole starting-a-family thing, I know my time will be even tighter in years to come.
My motto for balancing life and fitness is a simple one: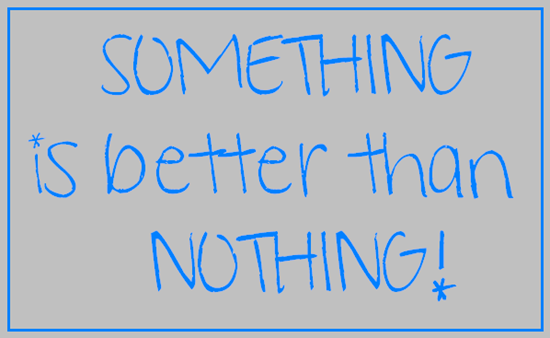 Something—ANYTHING—is better than nothing at all. Sure, in an ideal world I want to get to the gym 5-6 days a week and have an hour-long workout each time.. but that's just not physically possible! Side note: I don't do morning workouts.. I have tried. I have failed. And I know people say that it's all in my head and I CAN be a morning worker-outer.. but I am taking a stand and saying NO. I love sleep (sleep is important!) and fitting in a workout before work is just not happening for me. Anyway, because I don't have all the time in the world, I have to fit my workouts in when and where I can. After all, 5 minutes here and there adds up and is way better than doing nothing.
Here are some of the ways I fit in fitness and balance it within my life's demands.
1. Invest in at-home workout equipment.
Sometimes we just don't have time to make the commute to the gym or the time that one of our favorite fitness classes happens to be doesn't fall in line with our schedule. But most of us DO have at least a few minutes of downtime at home—I'd go as far to say you probably have thirty spare minutes at home. That is more than enough time to get a great workout in.
I personally own quite a bit of at-home fitness equipment. I have a pull-up bar, a jumprope, a set of kettlebells, some dumbbells, a BOSU ball, and a stability ball. This makes building at-home workouts fairly simple. However, if you are starting from scratch, I strongly suggest you invest in a kettlebell. 25# is a great weight to start with. Kettlebell moves not only help build muscle, but also get your heartrate up and increase your cardiovascular endurance. Some of my favorite kettlebell moves include the classic swing, upright row, single leg deadlifts, and tick-tocks.